Nandini is a 24-year-old software developer and Sunil, 26, works in an advertising firm.
Felt like a felon
As I was lying down on the steel operating table, shivering, my teeth chattering; all I had on me was a thin hospital gown that did nothing to keep me warm. Despite the mind-numbing cold, my mind was racing. How did I end up here? Why was I going through all this pain alone? Why did the doctor look at me and say 'That's why you shouldn't do all this before marriage. After this no more physical relations till you have tied the knot! Okay?' I barely managed to nod in affirmative.
Why wasn't he looking at Sunil and saying all of this? He was just as responsible as I was. Yes, the abortion was my decision but that's what he wanted as well!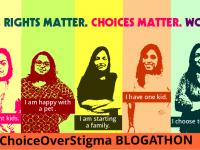 Love Matters
The doctor, the nurse and the attendant were all giving me these judgemental stares as if I had committed a felony. They wouldn't dare give Sunil the same looks. But then, having an abortion is a woman's prerogative, right?
Perfect life shattered
A few weeks ago, we both were so happy living in together in the heart of Delhi, doing the jobs we loved. We had no financial strain and we even managed to go on vacations quite often. We had just completed two years of being together and planned to tell our folks about our relationship during the Diwali break. It couldn't have been more perfect until I found out I was pregnant. Who would've thought one slip up in the heat of the moment would've got us pregnant!
After the initial shock, Sunil said it was up to me. Whatever I wanted he would support me. While that felt supportive in the beginning it soon became too much pressure for me to handle. I had just learned to take care of myself and here I was making decisions for another life. On top of that, I had never gone to a hospital, unless I was visiting someone and now I'd have to have a procedure! And all Sunil had to say was, in a rather meek voice 'It's up to you, it's your body'. 'Yes. I know! But you are equally responsible!' I screamed.
I was sputtering it out- the fear, the insecurity and frustration. I know he felt bad for me but he didn't say anything to comfort me.
Choosing the clinic
I'd read horror stories of how unsafe abortion clinics are - infection, blood haemorrhage, womb perforated in the process were all terms that seemed so distant a couple of days ago could now be my reality! And what if Sunil and I broke up?
I chose to concentrate on the present and I found the clinic on my own. Recommended by a friend, it had the reputation of being a clean, safe and discreet one. The cost was double of what some others were charging but I didn't want to take any chances. I told Sunil that the appointment had been given for the following Thursday. We reached the clinic half an hour earlier and were surprised to see the number of young girls there. Some looked so scared and others had a certain air of confidence which comes from experience. What struck me most was that there were only two guys in the whole reception area. Granted they may all not have been there for an abortion but it gave me some solace that maybe Sunil was responsible.
Unsolicited advice
Once the procedure was over and the anaesthesia wore off, I got up slowly. Still feeling groggy I remember the nurse telling me 'See what happens when you do wrong things. One gets punished. Now, this should be a lesson for you, if this keeps happening then you'll have a problem conceiving later on!' As feelings of anger erupted within me again, Sunil swiftly took over and held me. Then he gave the nurse and doctor a harsh look and said 'Thank you for your unsolicited advice. Now could you please be useful and explain the post-op care guidelines again? And since opting for abortion was also my decision what instructions are there for me?' That's all it took him to be strong and support me when I was feeling judged and miserable.
No permanent damage
It's been three months since the abortion and I still have good and bad days.  Like so many others I could have been held prisoner to the feelings of shame associated with having an abortion, especially for an unmarried woman. I am a strong woman and even if I had to go through this experience alone, I always knew I had it in me to get through with no 'permanent' physical or mental damage. However, with Sunil by my side, I did find it easier to cope. There was someone to talk to. I often think about all those girls I saw at the clinic and hope that they too are as alright (if not better) as I am.
Persons in the picture are models
Nandini* (name changed) shared her abortion story with Love Matters for our #ChoiceOverStigma Blogathon as we mark the Global Day of Action for Safe and Legal Abortion (28 September).
This week, we will publish personal accounts from Indian women who chose abortion and claimed their reproductive rights.
Tomorrow, we hear from Supriya, who underwent severe mental trauma with four abortions in an abusive relationship.
Love Matters supports women's right for abortion that is safe, legal and easily accessible.
Do you have any questions on abortion? Visit Love Matters on our Facebook page. If you have a specific question, please visit our discussion forum - Let's Talk.