*Ridhi, 29, is a media professional in Delhi. 
BFFs
Shweta was my best friend since school times. We even went to the same college. We celebrated birthdays together and grew up knowing everything about each other – our first crush, our first kiss, and even our first bikini wax! I was the 'backward' one in our friendship, who had to be 'educated' for everything. And she was my perfect guru.  
Shweta was the one who told me about sex and how babies were born – much to my disbelief. We even watched our first porn film together!
As college ended, we parted ways to pursue our careers. I was interning in Delhi with a media house as Shweta began her MBA. She was already dating Raaj – a guy from her college but she was sure this was long term.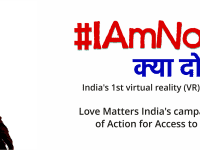 The pillow talks
Distances matter a lot in Delhi and although we lived in the same city, we were on opposite ends. We decided to meet on weekends, and on our first night together, over coffee and Maggi, she shared details of her first sexual experience. I was as excited to hear the details as she was in sharing them with me.
I too had begun dating Namit but told her how he was not keen on getting physical as wanted to save our virginity for marriage. Shweta teased me over this. We spent hours chatting and slept in wee hours of the morning.
(Check out the video below where *Ridhi narrates the story in her own words) 
New grown-up lives
The week went by and I was already looking forward to our next weekend so that I could meet Shweta again and hear more juicy stories from her. I called her up but she told me that she was spending the weekend with Raaj. They had decided to go to a resort to get some private time.
From then on, something or the else would come up and Shweta and I couldn't meet. Meanwhile, Namit too got a small project in Delhi and I started seeing more of him. Shweta and I both got busy with our new 'grown-up' lives but still kept in touch over phone and messages.
The distress call
One day, as I was working late in the office, I got a call from Shweta. She was crying on the phone and told me she was pregnant. I was shocked. I knew she was physical with Raaj but I also knew they were using condoms. I asked her if she was sure. She said yes, as she had taken three tests.
'I am very scared Ridhi. We were short on condoms one day and decided to take chance as my periods were to start next day. I thought it was my safe day. I don't know what to do now. Raaj is saying he will help me get an abortion but it's all so scary for me. Can you come along with me? I really need your support,' said Shweta, still sobbing.
'Of course', I told her promising to be with her as soon as I could. Later, when I reached home, I got a message from Shweta that they had fixed the coming Saturday for abortion at a clinic in Delhi. I told her not to worry as I would be there.
Boyfriend or best friend?
I met Namit for coffee the next day and he could see I was upset. I told her about Shweta and that she needed my help. Namit heard with utter disbelief and said, 'Are you out of your mind? You want to go and your unmarried friend get an abortion in that God-forsaken clinic?'
He became furious. 'How could you even agree to a request like that?', he asked. 'What if someone saw you? What if the doctor or the nurse or any other patient at the clinic happened to know you and told it to your parents'? He even said that I should not have such friends in the future and should completely avoid her from then on.
I tried to explain my point to Namit but he was so angry that he did not even finish his coffee and we ended our date on a sour note. We did not even have our routine long night call and he refused to speak to me the next day too.
I was in dilemma – boyfriend or best friend?
My selfish decision
Shweta and her boyfriend came to my hostel to pick me up on Saturday. With a heavy heart and tears in my eyes, I told her I had an important assignment at work and had to leave for office. I said sorry to her and watched her go with disappointment in her eyes.
Today, as I look back, I wish I had defied Namit and gone ahead with what I felt was right – supporting my best friend. I wish I had not listened to anyone and been there for my friend when she probably needed me the most in her life.
Years later, I told the Shweta real reason behind my u-turn. She said that she understood and wasn't upset with me. Shweta got over the difficult day of her life without the support of best friend and may have forgiven me. But I still have not gotten over my decision to abandon my friend. I wish I had had the courage.
*To protect the identity, names have been changed and the person/s in the picture is an actor. 
This article was first published on September 24, 2018. 
Do you know someone who had to undergo an abortion? Did they get the support they needed from their family and friends? Comment below or share with Love Matters (LM) on our Facebook page. If you have a specific question, please ask LM experts on our discussion forum.