Ikshaku Bezbaroa alias Kushboo is a human-rights lawyer, writer and drag queen from Bangalore, India.
Trying to fit in
I've always been out of place. Always sticking out, never fitting in with the crowd. At school or college, work or home. I thought it was maybe because I was gay. I came out to people when I must have been 17.
But things didn't change much after my coming out. Even with gay people, I was considered either too quiet, too academic, too silly, or too humorous!
Throwback to first year of college – that's when I first met this messy haired, quiet girl called Arpita. We were both from the same city, and hung out with the other law-students from Kolkata. I would notice that she was silent and awkward just like me, but we didn't talk much then. I didn't pay much attention. I was too busy trying to fit in with the cool kids. I would go out for parties with them.
An alien like me
As years went by, Arpita and I became friends. I told her I was gay, and then there was no looking back. This quiet girl I'd barely spoken to suddenly opened up to me as well. Maybe it was because I was vulnerable with her, and she felt she could too. I became sure there was something special here.
She was just like me too. Awkward, with a weird sense of humour. Angry and cynical. Rebellious. Creative. Smart. All of that hiding beneath the exterior of a quiet person.
Coming out, again
In 2016, I announced to her and others that I would be a drag queen (check out the picture below). My parents rejected it. Some of the friends I told said I was so brave, and so strong. Some people felt very sorry for me. Others were scared and worried. It was quite tiring to deal with everyone's serious emotions.
Worst of all, my boyfriend of six years dumped me suddenly over the phone. 
Ikshaku Bezbaroa in her drag avtar Kushboo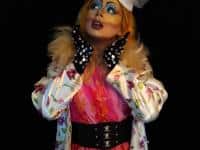 © Ikshaku Bezbaroa/Love Matters India
Just showing up
If someone truly is there for you, they won't announce it. Arpita saw I was heartbroken about the breakup, but she wouldn't be too dramatic or extra about it. She was just understanding and sympathetic, and also a little bored. It was just what I wanted – a human reaction.
Almost everyone else put me in a box. Some said I was too obsessed with the ex-boyfriend, some said I needed to go on long vacations and heal. But Arpita just accepted me for who I was, without making me either too special or too undesirable. She understood that basic value about respecting someone for who they are. We were just comfortable in respecting one another's boundaries.
And she would also tell me things she didn't like. She never treated me like a baby; refraining from speaking her mind. We could be honest with one another.
What families are made of
That's why I consider Arpita a part of my chosen family. Family shows up for you, will let you be yourself, and also be themselves. I don't want people in my life performing kindness or nastiness all the time. I'd much rather have someone like her – comfortable just being herself, and expecting nothing more or less from me.
Do  you have such a story? Share with Love Matters on our Facebook page or visit our discussion forum - Let's Talk.