Abortion in India continues to be a stigmatised issue, often surrounded by shame, stigma, and silence at different levels – be it at personal, community, or institutional and structural level. This prevents many women from accessing safe abortion, forcing them to avail it at shady clinics and by inexperienced practitioners, putting their lives at risk.
It also prevents women who have had an abortion and/or are seeking an abortion from speaking out openly about their experiences and inhibits people in their lives from coming forward and sharing their own experiences of helping and supporting women during this process, thus reinforcing the cycle of silence and stigma around abortion.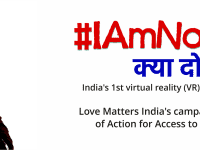 Love Matters India
But, it's time we break this cycle. And, it's time for us to step up.
To mark September 28th this year, which is globally recognised as the Global Day of Action for Access to Safe and Legal Abortion, Love Matters India is launching the campaign #IAmNotAlone – kya doge mera saath?
It is geared towards calling on women and those in their lives – be it their partner, family, friends, colleagues, doctor -- to step up and share their own experience of supporting women's choice to have an abortion, and enabling them to exercise their right to make decisions pertaining to their bodies, health and lives.
The campaign is an effort to shatter the collective silence that exists around abortion, and script a fresh new narrative of building stronger and diverse support systems for women to be able to choose and access abortion, free of judgment, prejudice, and stigma.
Love Matters India is planning the following activities around the campaign. Join us for the following activities:
Launch and screening of Love Matters India's VR film - 'I Am Not Alone/Main Akeli Nahi Hun' at AntiSocial, Hauz Khas on Sep 27, 2018, 5 PM onwards.

Panel discussion at AntiSocial, Hauz Khas on Sep 27, 2018.  The launch will be kickstarted by a panel discussion on the topic of safe and legal abortion, followed by the screening of the film. 

The release of three short videos on different perspectives of supporting women who have had an abortion
So, kya doge mera saath? Don't hesitate. Join us. For more information, check out our Facebook event page. 
*To protect the identity, names have been changed and the person/s in the picture is/are models.
Have any questions? Comment below or share with Love Matters (LM) on our Facebook page. If you have a specific question, please ask LM experts on our discussion forum.