Harsha, 27, is a lawyer at Delhi High court and her sister Nistha is a doctor. 
What's your purpose?
My mom was a school teacher and would often leave very early in the morning. That was the time when my dad took over the care of my elder sister and I – making breakfast for us, packing our tiffins and even combing our hairs.
I led the life of a naughty and bubbly child in the conservative small town of Buxar in Bihar. But within our family, we were brought up carefree and without any restrictions. My sister and I focused on our careers and were told guests who by our dad, who is a public prosecutor, that we hadn't come to earth just to get married and have kids. We must have a purpose in life and that we needed to find ours, he would say.
And as and when we chose to get married, we would be free to choose our partner from any caste, class or even gender. Yes, incredible, isn't it? When my sister, who is a doctor, decided to tie the knot, my parents were more than happy. Jiju and his family were as open-minded as us.
Zara hat ke
As the D-day for my sister was nearing, my dad suggested that the marriage be registered at a court before the ceremony. He recommended that it take place at the Arya Samaj temple only.
He also did not want any pundit to do the rituals. Why? Because he could never understand why an upper caste brahmin had the right to do the ceremony? Why not anyone else from any other caste?
Jiju's family was impressed by my dad's decision and were more than welcoming to leave the old, illogical rituals behind. But we didn't miss out on any of the desi wedding fun! Sangeet, mehendi, haldi, shopping, my sister's wedding had all the other dhamaal.
We all wanted to make the wedding memories last a lifetime for didi. However, it was my dad, who made it truly special, by getting the most wonderful one-of-a-kind wedding invitation.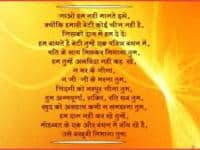 Love Matters India/Harsha
Shaadi wala card
I still remember the first time we all saw the card! Unlike most cards that start with seeking the blessings of the Almighty, my didi's card began a unique headline – 'Jaati-dahej mukt shaadi.' (' A marriage free from cast and dowry.')
The card mentioned that my parents won't be doing any kanyadaan (the ritual of the father giving away the girl to the groom). The card also said 'hamari beti koi cheez nahi hai, jisko hum daan mein de dein (our daughter is not a thing to be give away.)'
The card brought tears to our eyes. Tears of joy. I suddenly also understood what my father meant by having a purpose in life. My sister's wedding, with its unique invite and a no kanyadaan ceremony, became the most talked about occasion in Buxar for months to come.
It wasn't just a new start of life for didi but also for many guests who had never thought about any of this before! If it changes even one person's attitude towards their daughter, that's quite a purpose met. Isn't it?
Do you have a similar story to share? Comment below or share with Love Matters (LM) on our Facebook page. If you have a specific question, please ask LM experts on our discussion forum.