All sorts of skills are important for a healthy long-term relationship. When conflict comes up, you need to be able to communicate your point of view. At the same time you need to be able to empathise with your partner – even if it means agreeing to disagree.
But how do you pick up these love skills? What works best? Attend a relationship training course? Just muddle through together and work it out as you go along? Or… watch movies together?
Relationship awareness training
US researchers reckoned that many people already have the know-how to keep their relationship rosy. The problem is that they don't uses their skills, but slip into taking each other for granted. So their marriage ends up on the rocks.
Maybe all it takes is becoming more aware that you have to put your skills to use and save your relationship from falling apart? Perhaps what you need is 'relationship awareness training'?
To test out this idea, the researchers found 174 newlywed couples willing to put their love under the microscope. They split the couples into four groups and gave them different treatment.
Two groups went to intensive workshops to study relationship skills. One group just did nothing and got on with life as usual. And the third group… well, they got to watch romantic movies.
For the next three years the researchers regularly checked back on the couples to see what kinds of relationship skills they used and whether they were still happy together.
Movies prevent divorce?
And the result? The couples who'd had 'movie therapy' were twice as likely to still be in a happy relationship compared to those who hadn't, the researchers found. It turned out that watching romantic flicks like DDLJ or Yeh Jawaani Hai Deewani with a loved one was just as effective at preventing divorce as sitting though hours of skills-training workshops.
So what exactly did 'movie therapy' involve? Couples got to choose from a long list of flicks about a romantic relationship. After they watched a movie they talked to each other about important themes like forgiveness, stress, conflict, and support. They had one session doing this with the researchers before going it alone at home, snuggling up in front of one movie per week for a month with their sweetheart.
Fancy putting 'movie therapy' to work in your relationship? The idea is that you learn to see what's going on with your partner by paying more attention to day-to-day life. Movies can help with this by giving examples of the kinds of things that need your attention – from arguing over who pays for dinner to quarrels about what to watch on TV. That way you'll be quick to catch on and attend to problems when they come up. And the more aware you are of your relationship the better your chances of being with your partner years down the road.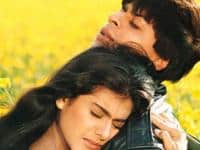 Dilwale Dulhania Le Jayenge
What movies can teach us about relationships
Love Matters' top five suggestions…
Dilwale Dulhaniya Le Jayenge Learn how to convince your girlfriend's dad (who's the more terrifying than Gabbar Singh) that you're THE guy for his daughter.
Yeh Jawaani Hai Deewani Learn how to just get on with life and let love and everything else fall into place.
Hum Aapke Hain Kaun Learn how to keep your love a secret from your family and friends, until it gets awkward i.e. you're family's trying to hook you up with your lover's brother. Eeks!
Kuch Kuch Hota Hai Find out that love doesn't just happen once – that you can score a girl being a father of an eight-year-old, cool or not.
Dil Chahta Hai Learn how to win your friend back after you've had a fight with them over their awkward relationship.
(Uh... maybe this isn't exactly what the researchers had in mind...)
Based on: Is skills training necessary for the primary prevention of marital distress and dissolution? A 3-year experimental study of three interventions. Rogge RD1, Cobb RJ, Lawrence E, Johnson MD, Bradbury TN.
What do you think movies can teach us about relationships? Share your suggestions below or on Facebook!